
Shipments all over the world in 2-3 business days | Secure payments with Paypal or bank transfert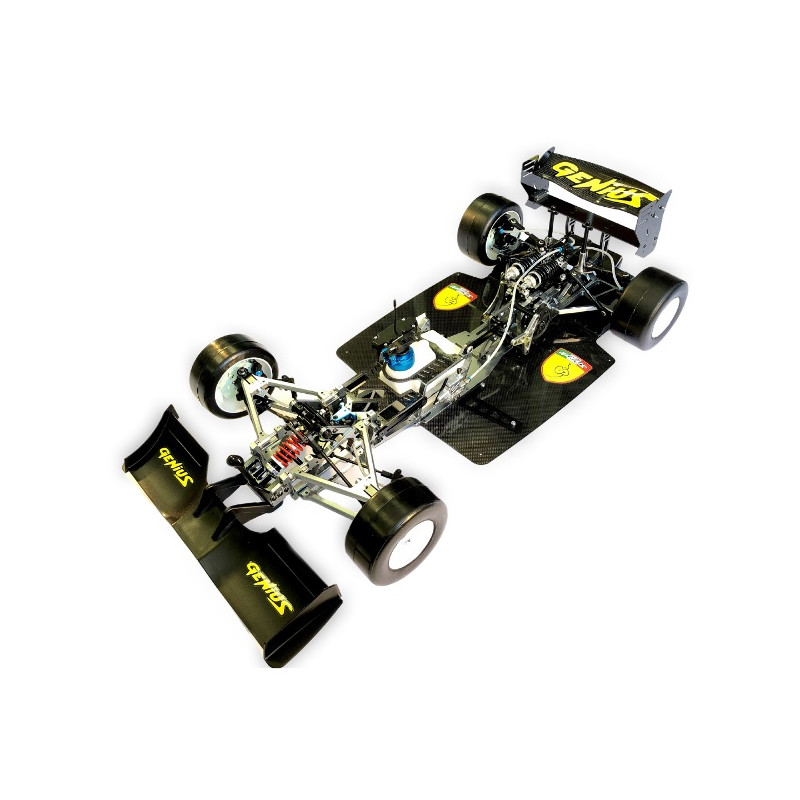 
The Genius FR2 EVO 2021 is the new 1:5 scale high performance Formula 1 car model, designed specifically for competitions.
The Genius FR2 EVO is the evolution of the previous FR2 Plus model with a new central and front structure and components made to be even more robust and durable. The goal is to make the various maintenance and setting operations more and more functional and immediate, obtaining a fast car but at the same time more stable and easy to drive.
100% Paypal Secure Payments

Easy Return Policy in 14 days

Shipments in 2-3 Business Days
Features:
- Wheelbase of 622 mm for better handling of tight curves (makes it easier to change direction)
- New fixing system for the rear wheel hub with bronze bushings and titanium shims (more robust and best precision in assembly)
- New lowered radio plate (greater stability and ease of setting). Pivot optimization to make maintenance of the front arm easier
- 20mm lowered brake pump (improves roll center)
- Possibility to choose the radio plate with double or single servo
- New plate for tank support (improves the fixing system)
- Saver servo lower than 20mm (Ackermann geometry unchanged)
- New position of the receiver box, lowered by 20mm
- Lower carbon cap to protect the electronics area
- New safety limit switch (for steering)
- New stiffening tip
- All new features can be updated on the previous FR2 Plus car
- An upgrade kit will be available for all FR2 Plus owners
Techinical details:
Weight: 10,5 Kg
Lenght: 622 mm (Regular Wheelbase)
Width: 450 mm (Regular Wheelbase)
Engine: 26 CC
Tank Capability: 700 cc
No customer reviews for the moment.
1 other product in the same category: